Top SEO Tools of 2015
The Screaming frog SEO Spider is a program which crawl the website link, images, CSS, script and apps for your SEO needs. It helps you to analyze, audit and review a site from SEO perspective. It is helpful in analyzing medium to large sites.
The tool crawls the websites same as the Googlebot does and its own user agent "Screaming Frog SEO spider" obeys specific directives for in robot.txt.
---
SEMrush

SEMrush provide tools which collects a large amount of SERP data which consist of more than 106 million keywords and 100 million domains including Adwords ad copies and positions, organic positions for domains and landing URLs, search volumes, number of results.
---
Majestic Tool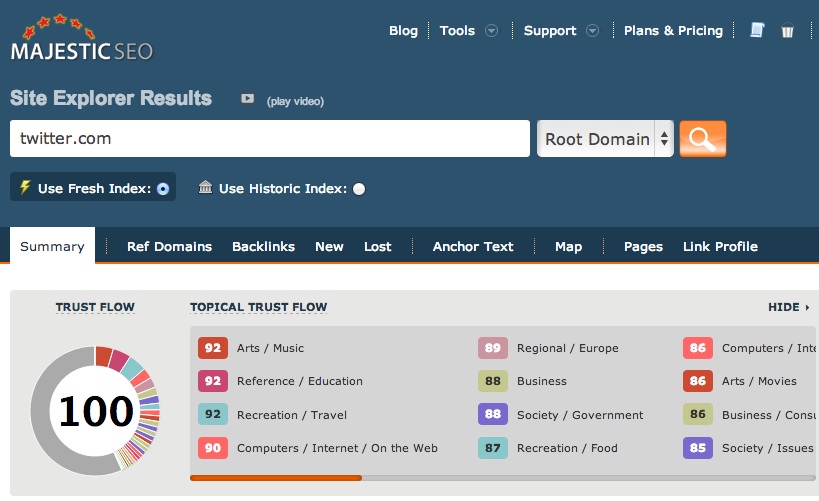 Majestic SEO Tools helps to keep track all your SEO needs. It helps to manage portfolio, audit websites and build reports for your success..
---
Moz Analytics

Moz Analytics is a unique tool which is used to determine the inbound internet marketing efforts on a single platform. It highlights the relationship between SEO, content and social activity, inbound links and brand mentions. It shows you the result of the efforts which you have made over time for internet marketing. You can look at the growth and change in performance with the help of graph. You can track your competitors and plan your next move as to which keyword can boost the traffic, which meta tags should be used, remove the duplicate page content and optimize your website to achieve a brand image in the market.
---
Fresh Web Explorer

Fresh Web Explorer is a tool which uses the power of Freshscape index to determine the position of your brand, latest topics or any key terms which matters for your brand promotion. The Freshscape index includes over 3 million RSS feeds and more than 85 million URLs. The new metric, Feed Authority will help you in knowing which mentions are popular and lets you to find the latest relevant content that is published on the web.
---
Moz Rank Tracker
Moz Rank Tracker lets you to know search engine ranking of pages and keywords and keep them in storage for comparison later. You can also look at the selected ranking over time to manage your efforts and by signing up you will regularly get email notification so that you can track your ranking. It supports all major search engines like Google, Yahoo and Bing to determine your ranking.
---
On page Grader
On page Grader tool audits your on-page SEO and keywords use so that you can improve the ranking of your target keywords. The tool scores your page by applying over 30 criterion thereby helping you to focus on the biggest and best return.
---
Buzz Stream Link Build Query Generator
Buzz Stream Link Build Query generator In this tool we fill the information about the brand, the competitors, and the market. After giving the information this tool will generate link building queries which will uncover good link opportunities.
---